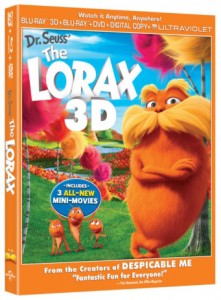 Universal Studios has announced the official release date for Dr. Seuss' The Lorax on Blu-ray Disc, Blu-ray 3D, DVD, and Digital Download will be August 7, 2012. Both of the Blu-ray editions will contain Digital and UltraViolet copies of the films (provided on the DVD or via the cloud, respectively). The editions contain three new mini movies titled "Serenade," "Wagon-Ho" and "Forces of Nature." There is also a deleted scene, several featurettes, audio commentary, and Blu-ray bonus features such as uHEAR and pocket BLU. Video is formatted in widescreen 1.85:1 with English DTS-HD Master Audio 5.1. You can pre-order Dr. Seuss' The Lorax from Amazon.
Dr. Seuss' The Lorax 3D Combo Pack (List: $49.98) $34.99
Dr. Seuss' The Lorax Combo Pack (List: $34.98) $23.99
Dr. Seuss' The Lorax DVD (List: $29.98) $19.99
[showhide]
BLU-RAY 3D COMBO PACK AND BLU-RAY™ COMBO PACK BONUS FEATURE EXCLUSIVES
MINI MOVIES

Serenade — Two Bar-ba-loots — one love shy and the other suave and confident — battle for the heart of their would-be sweetheart with the help of a colorful cast of characters, including the Humming-Fish and Swomme-Swans.
Wagon-Ho—Two Bar-ba-loots take The Once-ler's wagon on a ride they won't soon forget.
Forces of Nature—Determined to scare The Once-ler out of Truffula Valley, The Lorax decides to create the illusion of ominous forces of nature.

MAKING OF THE MINI MOVIES—Go behind the scenes at Illumination Mac Guff to see the joys and challenges of continuing the characters' stories in the dynamic format of the mini movie.
DELETED SCENE
SEUSS TO SCREEN—A fascinating look into the translation of Seuss' iconic style from book into the big feature film canvas.
SEUSS IT UP!— A great tutorial on how to draw the Lorax, a Humming-Fish and a Bar-ba-loot in the unique Seuss style.
TRUFFULA RUN—The player moves left and right to avoid obstacles while attempting to pick up berries with modes for easy, medium and hard.  As difficulty increases, the player will have more obstacles to avoid.
"LET IT GROW" SING ALONG— Karaoke-style sing along to the end credit version of Let It Grow.
FEATURE COMMENTARY WITH CO-DIRECTORS CHRIS RENAUD & KYLE BALDA
ONCE-LER'S WAGON— While the Once-ler is away peddling his wares, the curious forest creatures have fun with his belongings.  Users can select an item for the creatures to mimic or play with and then watch the adorable antics of all the forest friends.
BONUS FEATURES EXCLUSIVELY ON THE BLU-RAY™:
GET OUT OF TOWN—In this game, the player must help Ted navigate through town on his scooter in order to make it to the Lerkim and meet the Once-ler.  At the end of each level, Ted must solve an obstacle puzzle to advance to the next section. There are three levels and three puzzles to complete to win the game.
O'HARE TV— Watch the Lorax with hilarious commercial interruptions courtesy of O'Hare TV.
EXPEDITION TO TRUFFULA VALLEY—Explore and navigate within the Truffula Valley to learn more about how the characters and creatures come to life.
ADDITIONAL EXCLUSIVE COMBO PACK FEATURES
ULTRAVIOLET™—The revolutionary new way for consumers to collect movies and TV shows, store them in the cloud, and download and stream instantly to computers, tablets and smartphones. Currently available in the United States only.
DIGITAL COPY—Viewers can redeem a digital version of the full-length movie from a choice of retail partners to watch on an array of electronic and portable devices.
uHEAR™: Never miss another line of dialogue with this innovative feature that instantly skips back a few seconds on your Blu-ray™ disc and turns on the subtitles to highlight what you missed.
pocket BLU™ APP—The popular free pocket BLU™ app for smartphones is now even better with newly updated versions for iPad®, Android™tablets, PC and Macintosh computers, with features made especially to take advantage of the devices' larger screens and high resolution displays.

Advanced Remote Control: A sleek, elegant new way to operate your Blu-ray™ player. Users can navigate through menus, playback and BD-Live™ functions with ease.
Video Timeline: Users can easily bring up the video timeline, allowing them to instantly access any point in the film.
Mobile-To-Go: Users can unlock a selection of bonus content with their Blu-ray™ discs to save to their device or to stream from anywhere there is a Wi-Fi network, enabling them to enjoy content on the go, anytime, anywhere.
Browse Titles: Users will have access to a complete list of pocket BLU™-enabled titles available and coming to Blu-ray™. They can view free previews and see what additional content is available to unlock on their device.
Keyboard: Entering data is fast and easy with your device's intuitive keyboard.
[/showhide]