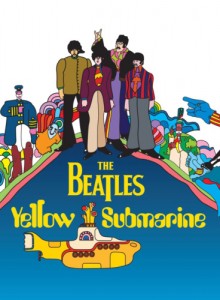 "Once upon a time or maybe twice, there was an unearthly paradise called Pepperland." It was 1968 when The Beatles' animated film Yellow Submarine hit theaters, the same year "The Beatles" album (known as "The White Album") was released. Now, the film has been digitally remastered in 4k resolution for high-definition playback on Blu-ray Disc, as well as re-release to standard-definition DVD. 
For 1968, Yellow Submarine was innovative, combining live-action photography with animation, 3-dimensional sequences, and kaleidoscopic "rotoscoping" (a method of tracing film frame-by-frame into drawings). According to the restoration company, the digital remastering was done frame-by-frame, taking special care with the film's original hand-drawn artwork.
Bonus features on both the Blu-ray Disc and DVD editions include a 7-minute making-of documentary, theatrical trailer, audio commentary, a 16-page booklet, and animation cell reproductions among other extras. Total-run-time of the film itself is 89-minutes (excluding bonuses), formatted in the original aspect ratio of 1:66-1. The soundtrack for Yellow Submarine is playable in 5.1 DTS, Dolby Stereo or original mono, with language options in English, German or Italian.
Yellow Submarine will release in North America on May 29, 2012. The film's soundtrack will also be released on CD simultaneously. No word yet on pricing.