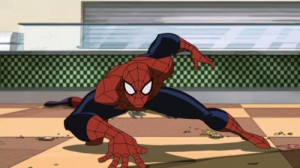 Disney XD has announced the new animated series "Ultimate Spider-Man" featuring Drake Bell as the voice of Peter Parker and co-creator Stan Lee as Stan the Janitor. The new series will air on Disney XD's new programming block called "Marvel Universe" premiering on Sunday, April 1 at 11:00am. The series' second episode will follow immediately at 11:30am. Disney XD will also premiere the second season of "The Avengers: Earth's Mightiest Heroes," as well as a new series that takes you behind the scenes of Marvel Universe.
If you miss the premiere, Disney XD says the series will be available the next day, April 2, on Disney XD Mobile VOD available via AT&T, MetroPCS, MobiTV, Sprint and Verizon; along with iTunes, Xbox Live and Sony Playstation.
The Marvel Universe TV block will also feature:

"Fury Files" – Top-secret access to S.H.I.E.L.D. video dossiers on key Marvel heroes, including Iron Fist, Power Man, Nova and White Tiger and the villains they face, are animated with mix of traditional animation and motion comic art.

"Marvel Mash-Up"– The Marvel Universe is turned upside down with these hilarious and unexpected takes on iconic Marvel heroes and villains, featuring classic animation edited with a comedic twist.

"Animated Reality" – Stunt and special effects experts showcase the epic moves of favorite Marvel Super Heroes including Captain America and Spider-Man.

"What Would It Take?" – Get a glimpse into the science and modern technology required to create the heroes' gadgets, abilities and tech in real life, ranging from Iron Man's jet propulsion boots to Iron Fist's power-packed punch.

"Master Class" – Marvel's Chief Creative Officer, Joe Quesada, explains the artistic vision behind Marvel's greatest Super Heroes and shows how artists bring them to life.