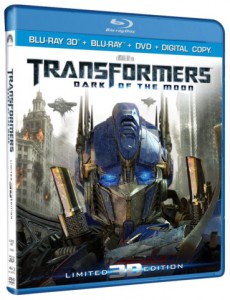 Good things come to those who wait. Transformers: Dark of the Moon released to Blu-ray on Sept. 30 but the Combo Pack didn't come with a 3D version or any extras to speak of. Now Paramount has announced a bulkier release of the film to hit shelves on Jan. 31, 2012. Transformers: Dark of the Moon 4-disc Blu-ray 3D/Blu-ray/DVD combo pack will contain almost four hours of bonus features plus an UltraViolet copy of the film. Glad you waited?
The bonus features include a full two-hour documentary about the making of the film with stunt secrets and behind the scenes footage. Other bonuses include "The Dark of the Moon Archive," artists' renderings of the AUTOBOTS and DECEPTICONS, "NASA's Future Then and Now" featurette, and 'Deconstructing Chicago" previsualizations.
Both the 3D and 3D Blu-ray editions are formatted in 1080p high definition with 7.1 Dolby TrueHD and 5.1 Discrete Dolby Digital. The extra DVD is formatted in 16:9 with Dolby Digital 5.1 Surround and 2.0 Discrete Surround.
Transformers: Dark of the Moon 4-Disc Combo includes:
Disc 1 (Blu-ray):
Feature film in high definition
Disc 2 (Blu-ray):
Above and Beyond: Exploring Dark of the Moon

Rising from the Fallen: Development and Design
Ready for Prime Time: Filming Across America
Battle in the Heartland: Shooting in Chicago
Attack of the Birdmen: Aerial Stunts
Shadow of the Sentinel: Post-Production and Release

Uncharted Territory: NASA's Future Then and Now
Deconstructing Chicago: Multi-Angle Sequences

Previsualizations with optional commentary by director Michael Bay and previsualization supervisor Steve Yamamoto
Previsualizations/Final Shot Comparison with optional commentary by directorMichael Bay and previsualization supervisor Steve Yamamoto
Visual Effects with optional commentary by visual effects supervisors Scott Farrarand Matthew Butler
Visual Effects/Final Shot Comparison with optional commentary by visual effects supervisors Scott Farrar and Matthew Butler

The Art of CYBERTRON

AUTOBOTS
DECEPTICONS
Environments
Weapons and Gear
Ships

The Dark of the Moon Archive

3D: A Transforming Visual Art
Moscow World Premiere
Birdmen Featurette
Cody's iPad
The Sound of Transformers: Dark of the Moon

The Matrix of Marketing

Trailers
Marketing Gallery
Disc 3 (Blu-ray 3D):
Feature film in high definition 3D
Disc 4 (DVD):
Feature film in standard definition
Digital Copy—Compatible with iTunes® and Windows Media