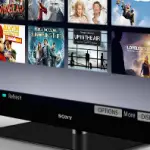 Sony Bravia TV owners might want to check out the new firmware update now available online. The update includes support for high-definition video from YouTube — a welcome addition which is of course contingent upon the quality of the clip you're watching. (If you find any superb clips let us know.) The firmware update from Sony also includes the ability to view Facebook videos and photos in full screen on your TV.
Twitter Ticker is a new feature that can overlay a real-time Twitter feed at the bottom on your screen. Another new feature allows you to find out an artist and title of a song being played by clicking Track ID on your remote. Users can then share the info to friends via Twitter.
You can get the firmware update via your Sony Bravia if connected to a network (wireless or ethernet). Or, if your set is off the grid you can download the update from the Sony Support website, copy to a flash drive, and run directly from the USB port.