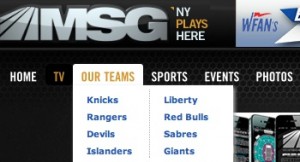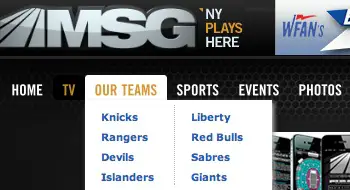 It's been a long time coming but finally Verizon FiOS TV customers in the New York, New Jersey and Connecticut areas will soon be able to get MSG HD. Verizon says both MSG and MSG+ are "ultimately expected" to be offered to customers in high-definition mid-December — although no exact date was given. For sports fans, that means local New York Knicks, Giants, Rangers, and New Jersey Devils games among other regional teams will be available to watch in HD.
Verizon already offers MSG and MSG+ in standard definition (SD), but the network's owner Cablevision had long refused to provide the HD feeds to Verizon and AT&T. Until last week. After a ruling in September by The Federal Communications Commission that Cablevision was "out of bounds" by refusing to offer the HD feeds to competing TV providers in the greater New York region, the commission's decision was upheld and a federal appeals court denied a stay of the decision.
"Sports fans want their sports in HD. And after years of seeking access to this programming, we expect to bring FiOS TV subscribers the basketball, hockey, soccer, lacrosse and other games and sports programming they have been asking for," said Mike Ritter, Verizon chief marketing officer for consumer and business services.
The areas where Verizon will offer the two MSG networks in HD include New York City and state, northern and central New Jersey, and Connecticut. The channels will be included in all FiOS TV service packages except FiOS TV Local.
As of yet, Verizon has not designated specific channel numbers to the networks.
[Update] Verizon is now adding MSG HD and MSG + HD over the next few days. You can find MSG HD on FiOS TV channel 577, 578 or 579. MSG+ HD will be on channel 579, 580 or 581.