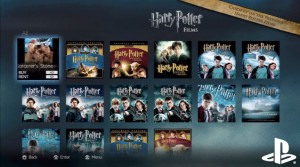 Finding a movie or TV show on your PlayStation 3 will now be a slicker and more intuitive process with today's release of the "Video Unlimited – preview" application. Available for download right now for PlayStation Plus users, and all users within a few weeks, the interface lets you browse through the PlayStation Store's video content by genre, actor, setting, studio, and more. You can find and download the app in the Media section of the PlayStation Store.
Watch a video walkthrough here.
[HTML1]
The walkthrough shows landing on the Thor movie page also brings up a column on the right side that shows related content such as "Earth", "Fantasy World", and "Natalie Portman", and clicking on those icons can bring up more choices in that category. Perhaps knowing that a Natalie Portman search can swallow up a whole afternoon, the app-makers have designated the Start button as your saving grace. Hit Start and your entire search history is displayed, allowing you to easily jump back to your original page. After downloading the app, the Video Unlimited preview function can be found under the XMB's Video icon.
Source: PlayStation Blog