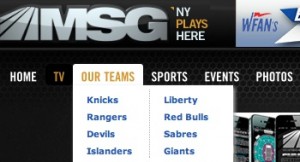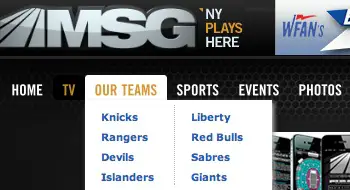 In New York, FCC orders Cablevision to provide high-definition feeds to competitors.
Great news for sports fans in the New York area. Yesterday, the FCC ordered Cablevision to start providing HD feeds of its MSG and MSG+ sports channels to competing service providers. That means that Verizon FiOS and AT&T U-verse subscribers will finally be able to get high definition feeds of MSG Network (Madison Square Garden Network) games including the New York Knicks, New York Rangers, Buffalo Sabres, and New York Giants, among other teams.
But Cablevision isn't taking the order lightly. According to a statement the company has "every intention of pursuing relief in the courts." Apparently, Cablevision doesn't think Verizon and AT&T need the HD channels to be competitive, and that the SD feeds are enough for their customers.
Surely Verizon and AT&T customers would argue differently. High Definition is simply a standard now for prime-time television, and sports events played a major role in the expansion of HDTV. How Cablevision was allowed to hoard the hi-def feed for so long is a question within itself.
Source: AdWeek