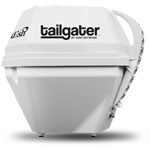 Dish Network wants you to enjoy their service anywhere, as you might have guessed with Echostar's purchase of the Slingbox product several years back. Now Dish is putting satellite TV where no internet has gone before, with an antenna that automatically picks up orbiting satellites to bring you all the channels you subscribe to.
Looking like a cross between a cooler and propane tank, the Tailgater Portable Antenna is housed within a weather-resistant case and weighs just 10lbs. The Tailgator supports both SD and HD content, with resolutions up to 720p and 1080i. You connect the antenna to your receiver via coaxial cable (a 50 footer is included), then HDTV via HDMI and you're ready to go — although as you would have guessed you'll need AC wherever you are.
A Tailgator system will cost you $499 for the Tailgater Portable Antenna along with a Dish ViP 211k HD Receiver. If you already have the receiver you can get just the Tailgater antenna for $350.
Check out the promotional images Dish has provided of the Tailgator in action, and check out this product video they released. Doesn't tailgating look like fun?