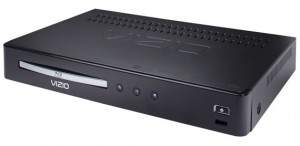 Vizio has released two new 3D Blu-ray players for home theaters that certainly hit the right price point. The less expensive VBR133 sells for $109 and the WiFi-enabled VBR122 sells for $119. For an extra $10, why wouldn't you grab the wireless model? The VBR133 and VBR122 both support Vizio Internet Apps, 1080p Full HD in 2D and 3D, and Dolby TrueHD (7.1 channels) and DTS HD audio. (VIZIO Internet Apps let you use online services such as VUDU, Netflix, HuluPlus, Amazon Video On Demand, YouTube, and Pandora through the BD player.) The higher priced VBR122, while supporting WiFi, also comes with an ergonomic remote control with full QWERTY keyboard.
Vizio also just introduced several new home theater components including the VSB205 and VHT215 Home Theater Sound Bars, VHT510 5.1 Channel Surround Sound Home Theater with Wireless Subwoofer, XVTHP200 Home Theater Headphones, and XVTHB100 Bluetooth Headphones.
Check for pricing on the new Vizio 3D Blu-ray players at Amazon.com.