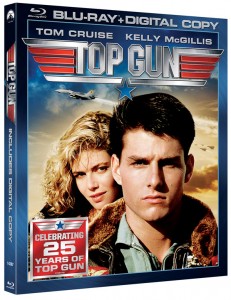 Paramount will release a 25th anniversary edition of Top Gun, the 1986 film which won an Oscar for Best Music, Original song and was nominated for three others. Top Gun stars Tom Cruise as an Navy pilot who gets sent to the Top Gun school at NAS Miramar,after disobeying orders at sea. Val Kilmer, Anthony Edwards, Kelly McGillis, and Meg Ryan also have major roles in the film.
The new 25th anniversary release will include a six-part documentary, a behind-the-scenes featurette, a survival training featurette, interviews with Tom Cruise, film commentary from producer Jerry Bruckheimer and director Tony Scott, music videos and additional extras. The release will also include a digital copy of the film.
The Blu-ray disc is formatted in 1080p high definition at 2.39:1 aspect ratio with English 5.1 Dolby TrueHD and English DTS-HD Master Audio.
Top Gun with Digital Copy will release on August 30, 2011. The title was previously released as a single-disc title without extras to Blu-ray Disc (2008) and HD DVD (2007), and also appeared as a single-disc BD UK import.
TOP GUN Blu-ray with Digital Copy:
The TOP GUN Blu-ray is presented in 1080p high definition with English 5.1 Dolby TrueHD, English DTS-HD Master Audio, French 5.1 Dolby Digital and Spanish 5.1 Dolby Digital with English, English SDH, French, Spanish and Portuguese subtitles. The disc includes the following special features:
· Commentary by producer Jerry Bruckheimer, director Tony Scott, co-screenwriter Jack Epps, Jr. and naval experts
· Danger Zone: The Making of Top Gun (six-part documentary)
· Multi-Angle Storyboards with optional commentary by Tony Scott
· Best of the Best: Inside the Real Top Gun
· Music Videos:
o Kenny Loggins—"Danger Zone"
o Berlin—"Take My Breath Away"
o Loverboy—"Heaven In Your Eyes"
o Harold Faltermeyer and Steve Stevens—"Top Gun Anthem"
· TV Spots
· Behind-the-Scenes Featurette
· Survival Training Featurette
· Tom Cruise Interviews
· Digital Copy—Offered in Windows Media for PC and iTunes for Mac & PC. The digital copy contains a copy of the motion picture only, without DVD special features, in standard definition with English language track in stereo only.