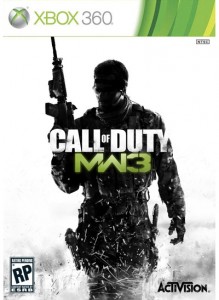 Retailers are now taking pre-orders for "Call of Duty: Modern Warfare 3" which is officially set to release on November 8, 2011. Last week, the Call of Duty YouTube page released four cryptic teasers in different languages which didn't reveal anything but a logo and some special effects. Even the official Modern Warfare 3 website is lacking any details, but at least now we've got a street date.
The third edition in the 'Modern Warfare' series comes from Activision, publishers of "Call of Duty: Black Ops," "NASCAR The Game 2011," and "James Bond 007: Blood Stone."
'Modern Warfare 3' was developed by Infinity Ward with help from Sledgehammer Games and Raven Software who developed the singleplayer and multiplayer versions, respectively.
"Call of Duty: Modern Warfare 3" will be released for PlayStation 3, Xbox 360 and PC systems. The title has not yet been rated.