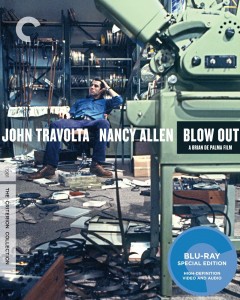 Criterion Collection releases a long awaited (and sometimes much maligned) Blu-ray disc today…  Brian De Palma's Blow Out.
Released theatrically in 1981, the film features a terrific performance by a much younger John Travolta (who had previously worked with De Palma on Carrie, his first big movie role) along with a truly great supporting villain in John Lithgow.   While De Palma is regarded by some as a mere hack who took his homages to Hitchcock a bit too far, here he's playing in the same sandbox as Michelangelo Antonioni, director of the seminal mod-film Blow Up (1966).  Some folks actually hate the fact that on the pretense of homage to a cinematic hallmark, he went ahead and "remade" Antonioni's film… however, that is not really the case at all.  While De Plama structures his film using the same type of motif (an artist captures what he thinks is a murder on a recording device), the two films go in totally different directions, as De Palma delves into themes he's generally comfortable with— guilt and identity— in order to create some truly twisted tension.  His film is also a paean to the filmmaking process, especially that of sound recording (needless to say, Blow Up makes a great double-feature with Francis Ford Coppola's The Conversation).  Sure, this film's a bit dated, but it's fun and one helluva thriller.  Of course, as it's a Criterion release, you can count on plenty of interesting extras.  If you're a De Palma fan (especially of his 70s and early 80s work), then you probably want to run out and buy this one…  it's available via most retail outlets today!
WHITE SPACE
Also recommended this week:  Alejandro Jodorowsky's brilliant, mesmerizing and incredibly loopy neo-Western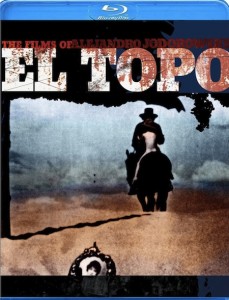 , El Topo (1970) released on Blu-ray by Starz/Anchor Bay.  One of the original "midnight movies" back in the day when those things mattered, the film was largely a bootleg on video until the 2007 DVD release (which looked pretty good at the time).  The Blu-ray promises to make this gorgeously composed movie even better on the home hi-def screen (although some are already saying that the BD is marred by too much DNR scrubbing, giving it a plastic look… caveat emptor for those already own the DVD).  Highly recommended for rental and a must own for fans of Jodorosky, easily one of the most unusual and spiritual artists working in cinema.
WHITE SPACE
Other Blu-ray releases for this Tuesday, April 26th include:
Betty Blue (Cinema Libre)
Blood Out (Lionsgate)
Bob Dylan: Don't Look Back (Docudrama Films)
Chawz (Magnolia)
Daylight (Universal)
Dementia 13 (Film Chest / Virgil Films &)
Dinoshark (Starz/Anchor Bay)
Eden of the East: The King of Eden (FUNimation)
The Enforcer (1995) (Vivendi)
Fear and Loathing in Las Vegas (Criterion)
The Holy Mountain (Starz/Anchor Bay)
Human Planet (BBC)
Jolene (Koch)
Knockout (Phase 4 Films)
Muay Thai Giant (Magnolia)
The Other Side Of The Mirror – Bob Dylan Live At The Newport Folk Festival 1963-1965 (Sony)
Poor Pretty Eddie (Film Chest/Virgil Films)
Romeo and Juliet (1954) (VCI)
The Scent of Green Papaya (Kino)
Sniper: Reloaded (Sony)
South Park: The Complete Fourteenth Season Uncensored (Paramount)
The Universe: The Complete Series Megaset (A&E)
To view all this week's Blu-ray Disc releases available at Amazon.com use this link.