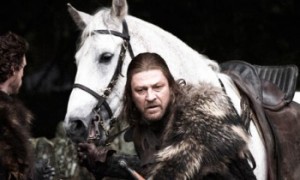 HBO's "Game of Thrones" has been renewed for another year after only one episode aired. Total viewership (including multiple broadcasts) of the episode titled "Winter is Coming" added up to about 4.2 million when HBO made the decision. About half that number watched the primetime premiere at 9 p.m. last Sunday.
"Game of Thrones" is based on George R.R. Martin's best-selling fantasy book series "A Song of Ice and Fire." Executive producer and writer David Benioff says "Game of Thrones" is sort of like "The Sopranos meets Middle Earth."
Sean Bean (who starred in Peter Jackson's rendition of J. R. R. Tolkien's "The Lord of the Rings Trilogy") told The Wall Street Journal, "there's sex, it's raunchy, it's pretty violent and a bit disturbing. It's got it all."
"Game of Thrones" is reported to be the most expensive TV show to date, at over $50 million for 10 episodes. Episode 2 "The Kingsroad" will air next Sunday night, April 24, at 9 p.m.. HBO broadcasts "Game of Thrones" in both 480i (SD) and 1080i (HD).