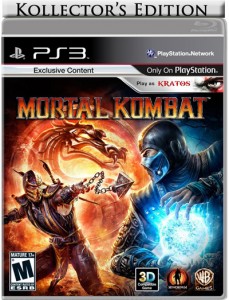 Warner Bros has released Mortal Kombat for the PlayStation 3 and Xbox 360 game consoles. The game brings several gameplay features including 4 player Tag-Team, Co-op Arcade play, Challenge Tower and King of the Hill. Mortal Kombat also introduces an all new fighting mechanic and X-Ray move giving players an "inside" look at a player's internal damage. The PlayStation 3 version of the game also features 3D capability if you have a 3D HDTV.
"Mortal Kombat is an extremely impressive game, and we are launching it in a big way, just as this landmark franchise deserves with outstanding marketing and retail support," said Martin Tremblay, President, Warner Bros. Interactive Entertainment.
The game is available in three editions that include Standard ($59.99), Collectors Edition ($99.99), and Tournament Edition ($219).
Order Mortal Kombat
from Amazon.com and get a credit towards "Mortal Kombat" the movie as well as a $10 promotional credit towards Amazon products.