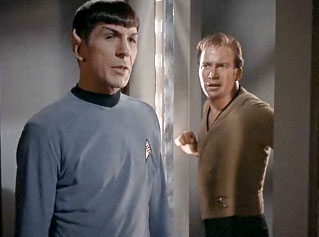 This coming July 1st, Netflix will start streaming all episodes of four different Star Trek television series including Star Trek the original series (TOS), Star Trek: The Next Generation (TNG), Star Trek: Voyager (VOY), and Star Trek: Enterprise. On October 1, Star Trek: Deep Space Nine will be added to the streaming library. The additions will mark the first time Star Trek has been streamed commercial free over the internet.
Trekmovie.com broke the news after contacting Netflix about rumors to stream Star Trek through a new distribution agreement with CBS. According the article, this will be the first time TNG, DS9 and Voyager have ever been streamed and the first time 'Next Generation" has been made been available in digital format.
The Netflix/CBS agreement only includes U.S. territory and will last two years with an option to extend. The deal with CBS did not include the 1970s Star Trek animated series.
Netflix offers a streaming-only service plan that includes unlimited streaming of titles to HDTVs, PCS, and mobile devices for $7.99 per month.