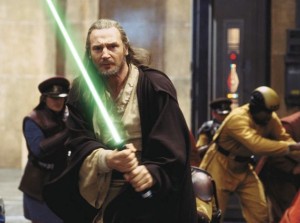 "Star Wars: Episode I The Phantom Menace" is getting a 3D conversion and will be released to 3D theaters on Feb. 12, 2012. The news comes via a recent press release from Prime Focus — the company that is doing the 2D-3D conversion using their proprietary View-D process. But don't expect over-the-top 3D effects that might "sell-out" 'The Phantom Menace.' Lucasfilm and Industrial Light & Magic (ILM) are taking a more subtle approach to converting the first of the Star Wars saga to 3D after what Prime Focus called an "exhaustive testing process."
"We're taking a different approach than you might expect. George's vision has been to add dimension to the film in subtle ways. This isn't a novelty conversion, with things jumping out at the audience; our goal has been to enhance the classic Star Wars theatrical experience, utilizing the latest cinematic tools and techniques," said John Knoll, Visual Effects Supervisor for ILM.
Star Wars creator George Lucas commented, "It was incredibly important to me that we have the technology, the resources and the time to do this right. I'm very happy with the results I've been seeing on Episode I."
Prime Focus has worked on such films as Avatar, Shrek, Tron: Legacy, Narnia: Dawn Treader and Sucker Punch. The company has facilities in North America, the UK and India.