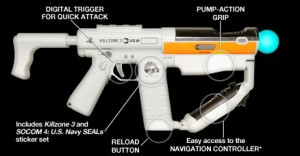 Sony is now taking pre-orders on the PlayStation Move "Sharp Shooter," a pump-action weapon compatible with the upcoming Killzone 3 and SOCOM 4: U.S. Navy SEALs video games. The sharp shooter houses the motion and navigation controllers, with several buttons, a digital trigger, and adjustable shoulder stock.
The sharp shooter also features pump-action grip and reload button options (if compatible with game) as firing options depending on preference. And, if want to decorate your sharp shooter it comes with KILLZONE 3 and SOCOM 4 sticker sets (personally I prefer some masking tape and spray paint).
The sharp shooter is compatible with most PS3 game consoles from the 20GB system up to the 320GB system, along with the PlayStation Move Motion Controller and Eye camera.
You can pre-order from several retailers including Amazon, Best Buy, CostCo, Fry's, GameStop among others. The PlayStation Move Sharp Shooter will hit stores on Feb. 22, 2011.