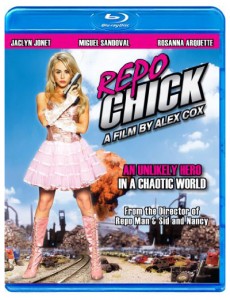 Step aside Repo Man. It's Repo Chick. From director Alex Cox comes "Repo Chick" starring Jaclyn Jonet as rich girl Pixxi De La Chasse who loses her inheritance, gets her car repossessed and ends up a repo chick herself. Rosanna Arquette (Pulp Fiction) and Miguel Sandoval (Medium) also star in the film.
The film comes from writer/director Alex Cox, who also wrote and directed "Repo Man" (1984) as well as "Sid & Nancy" (1986) and "Straight To Hell" (1987).
"Repo Chick" will release on Blu-ray and DVD Feb. 8, 2011 and contain bonus content. Wanna check out the trailer?