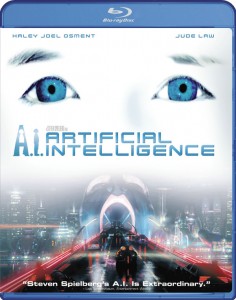 We're not sure if we can believe this date after the boy cried wolf one too many times. But Paramount has made another date change for the release of Steven Spielberg's A.I.: Artificial Intelligence to April 5, 2011. The movie was supposed to release on Feb. 15 according to announcements made to retailers in December. However, that date was pushed to April 12, 2011.
Now, Paramount has announced the movie will release one week earlier on April 5, 2011.
Developed over 15 years by the late Stanley Kubrick, A.I.: Artificial Intelligence takes you into the future where artificial lifeforms walk and talk like humans, reminiscent of Bladerunner replicants but without expiration dates. The movie stars Haley Joel Osment and Jude Law who meet up and together search for the meaning of their artificiality.
The high-def release of 'A.I.' is just a single BD-50 with DTS-HD Master Audio 5.1. Video is formatted in 1080p at 1.85:1 widescreen aspect ratio. Extras include production featurettes, trailers, and A.I. Archives.
A.I.: Artificial Intelligence carries an MSRP of $24.99 and is currently available to pre-order for $17.99.