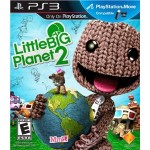 The sequel to the LittleBigPlanet is now available for PlayStation 3. LittleBigPlanet 2 has a new story with 40 levels, improved graphics and new tools for Sackboy. Media Molecule has also improved the control and customization of the game allowing players to create new games and assign controller buttons for different genres. For example, create a multiplayer racing game where you can compete against your friends.
LittleBigPlanet 2 will allow four-players offline and online multiplayer, new trophies, and backwards compatibility with the first game which lets you access over three million created levels that continue to grow in numbers.
New themes in LittleBigPlanet 2 include: Techno Renaissance, Steampunk and Cake, Neon Propaganda, Fluffy High-Tech, Designer Organic, and Hand-made Arcade.
Players can also access and share levels via the newly launched social website PBP.me. There users can search, publish and queue up levels. Lot's of improvements for the second LittleBigPlanet release.
"With LittleBigPlanet 2, players now have the ability to create actual games across different genres, so it will be very exciting to see what our community can come up with," said Scott A. Steinberg, vice president, product marketing, SCEA.
LittleBigPlanet 2 is available in both Standard (MSRP $59.99) and Collector (MSRP $79.99) Editions from Sony Computer Entertainment.
LittleBigPlanet 2 | Available in Standard and Collector Editions | Order Now