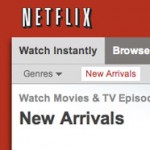 Netflix announced today a deal with Walt Disney Co. which will bring hundreds of television shows from ABC Television Network, Disney Channel, and ABC Family. The shows will be available to stream no more than 15 days after they premiere on TV, the company said. Netflix recently announced a streaming-only plan that costs $7.99 per month for unlimited access.
Financial details of the agreement between Walt Disney Co. and Netflix were not disclosed.
Netflix recently made a deal with FilmDistrict which will allow streaming movies from the distributer soon after they are released to DVD. The newly formed studio/distribution/production company distributes films under Sony Pictures Entertainment's TriStar and Triumph labels.