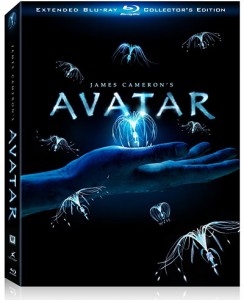 The Avatar Three-Disc Collector's Edition from 20th Century Fox is now selling for 55% off the list price of $54.99. The loaded disc set which includes the original theatrical edition, a family edition (with objectionable language removed), and a special extended cut with 16 minutes of additional footage is now priced at $24.99.
While Disc 1 contains all the movie versions mentioned above, Disc 2 titled "Filmmaker's Journey" contains 45 minutes of never-before-seen deleted scenes, the documentary "Capturing Avatar," featurette "A Message from Pandora," and production footage.
Disc 3 titled "Pandora's Box" contains interactive scene deconstruction, production featurettes, the Avatar original script and James Cameron's screenplay, Pandorapedia, the art of Avatar, and BD-Live.
Avatar was first released to Blu-ray Disc on Earth Day 2010 as a standalone title with no extras or optional film versions. The 3D version of Avatar is scheduled for release in 2011.
Order
Avatar Three-Disc Collector's Edition from Amazon.com for $24.99.
View full details about the Avatar Three-Disc Collector's Edition.