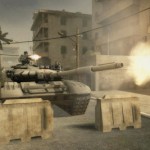 Electronic Arts' Battlefield Play4Free will launch Nov. 30 as a closed beta giving gamers a taste of the full game which will launch in spring 2011. The online PC game features sandbox gameplay, 32-player battles, and maps from Battlefield 2.
You'll have access to 16 different vehicles from Battlefield: Bad Company 2 including the Mil Mi-28 attack helicopter, its nemesis the F35 VTOL jet fighter, the massive Russian T-90 main battle tank, and the hard to catch LSV light strike vehicle.
"We broke new ground in 2009 with the launch of Battlefield Heroes; a game that has 6M registered players worldwide. Now we are complementing that arcade shooter with a core, realistic Battlefield shooter experience that fans have been clamouring for," said James Salt, Senior Producer, Battlefield Play4Free.
To register for the closed beta visit battlefield.play4free.com before Nov. 30, 2010.