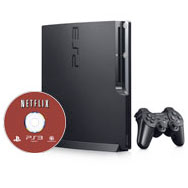 Starting October 18, Netflix will start streaming Dolby Digital Plus 5.1 channel surround sound through PlayStation 3 consoles. The format supports up to 7.1 channels of audio and is compatible with Dolby Digital 5.1 home theater systems. Additional devices will be added in the future to support the higher quality format, according to Netflix.
"This collaboration will enable subscribers to enjoy movies and TV shows presented in surround sound just as the artists and directors intended," said John Couling, vice president, marketing, products & platforms, Dolby Laboratories.
"Dolby Digital Plus proved to be the best solution to meet our needs and the needs of our device partners," said Greg Peters, Netflix vice president of product development.