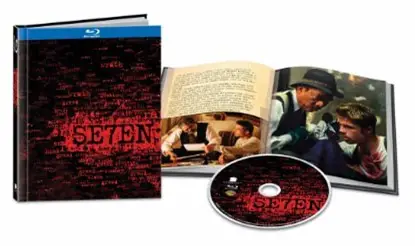 Willing to slap down $29.99 for a new Blu-ray title? Or more likely to rent a digital download or pick up a hard copy from Blockbuster? Maybe you are more patient, willing, (and frugal enough) to wait several months until a major theatrical release is available to stream via Netflix? We posed the question to two of our writers who had the choice to "Rent or Own" five recent Blu-ray titles. See if you agree with the results.
Buy or Rent these Blu-ray Discs?
The Lord of the Rings: The Fellowship of the Ring, The Return of the King, The Two Towers
Vote: Rent!
Buy or rent the single disc versions of the Lord of the Rings trilogy? Most definitely, rent. Unless, you want to throw down for both the theatrical and extended versions of this trilogy on Blu-ray. New Line is just double dipping on this one (quadruple dipping if you count the DVD versions). Fans know that while the theatrical versions are great the extended versions are the must own versions. Although, maybe diehard fans aren't concerned with the double dipping. For them everything LOTR is must own. BDs are formatted with DTS-HD Master Audio 5.1 and 1080p video at 2:40:1 widescreen aspect ratio.
Time Bandits
Vote: Rent!
Co-written and directed by Monty Python's Terry Gilliam, Time Bandits stars John Cleese (also of Monty Python) as Robin Hood and Sean "Shaken, not Stirred" Connery as King Agamemnon. While this a great film for its time and enjoys a bit of a cult following, Time Bandits may not be a movie you'll pop in more than a couple times. Therefore, rent the Blu-ray or stream the HD title although a one time viewing of the 1080i (yeah only 1080i) Blu-ray disc with DTS-HD Master Audio 5.1 is recommended.
Seven (Se7en)
Vote: Buy!
This is a must to buy because of the overall quality of the film and the extras included on the Blu-ray Disc. This is a film you may watch several times on different occasions which makes it worth adding to your Blu-ray library. In addition, extras which include extended scenes, alternate endings, commentaries and a production notebook make it almost a collector's edition. Audio formats include DTS-HD Master Audio 7.1 and picture is 1080p at 2:40:1 aspect ratio.
The Back-Up Plan
Vote: Rent!
Jennifer Lopez and Alex O'Loughlin star is this comedy/romance that doesn't break any filmmaking grounds but is nice to look in high-def 1080p. Deleted scenes (also in 1080p) and a few extras may be interesting to watch once but for us chic flics in general are a tough sell on Blu-ray. The question we asked of all the discs are "How many times will we watch it?" If the answer is "Not more than once" the vote in most cases is Rent. The Back-up Plan is presented in 1080p resolution at 2.35:1 widescreen aspect ratio with DTS-HD Master Audio 5.1.
Prince of Persia
Vote: Rent (1) Buy (1)
OK this is a tough one. While the film is loaded with juicy special effects the story itself doesn't exactly keep you guessing. Lots of high quality visuals and pretty faces make this a "must watch" on Blu-ray at least once or twice but whether or not worth purchasing is up to you. The Blu-ray Disc is available as both a single disc and Blu-ray/DVD Combo with digital copy. Video is formatted at 1080p 2:40:1 aspect ratio and audio DTS-HD Master 5.1.