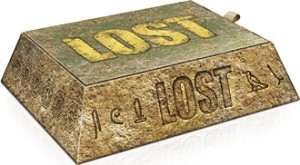 Lost probably tops the Blu-ray releases this week. The show, which was an early showcase for broadcast high-definition television, celebrates the release of two box sets. Lost: The Complete Sixth and Final Season contains all sixteen episodes of the final season of the ABC show, along with special featurettes, bloopers, deleted scenes, and commentaries. A total of 5 discs are formatted in MPEG-4 AVC 1080p video with DTS-HD Master 5.1 for audio.
A much bigger package is Lost: The Complete Collection. This 36-disc set (yes 36) contains about 5,074 minutes of Lost material from Season One through Season Six. One of the Blu-ray discs contains all never-before-scene content. BDs are also formatted in MPEG-4 AVC 1080p video and DTS-HD Master Audio 5.1. Goodies that come along with the box-set (in special packaging) include a Lost island replica, an exclusive episode guide, black light and collectible ankh. (See photo below.)
Right now, get a 30% discount
on Lost: The Complete Collection and 40% discount on The Complete Sixth and Final Season.
Other notable Blu-ray releases this week include:
Time Bandits (1981)
Starring: John Cleese, Michael Palin, Sean Connery
Young Kevins daydreams burst into astonishing and hilarious life when a band of time-traveling little men come crashing through his bedroom wardrobe and carry him off on an unbelievable crime spree, weaving through the greatest and strangest moments of history.
The Back-Up Plan (2010)
Starring: Jennifer Lopez, Eric Christian Olsen
Jennifer Lopez stars as Zoe, a single New Yorker who dreams about meeting Mr. Right, having a baby and living happily ever after. But after a string of Mr. Wrongs, Zoe commits to her back-up plan: to take on motherhood alone.
The Simpsons: The 13th Season
Animated 3-disc Blu-ray set
Talk about lucky! Season 13 of The Simpsons arrives on Blu-ray and DVD with 22 hilarious episodes and tons of fun-filled extras, including audio commentaries, animation showcases, and featurettes.
Here is a link to all the Blu-ray releases this week.