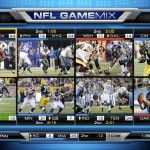 Not a DirecTV subscriber? No matter. This season you'll be able to purchase the NFL Sunday Ticket purely for online viewing. But, according to USA Today, the service is geared towards would-be DirecTV customers who cannot get satellite service. The article goes on to say that potential customers will have to prove they are unable to get DirecTV in order to purchase the $350 NFL Sunday Ticket online package (for example if they don't have a clear south-facing view to place the satellite.)
NFL Sunday Ticket gives online viewers "nearHD quality" – allowing streaming of games up to 720p resolution on PCs, Macs and now the iPad.
The online service also offers a Create-Your-Own Mix Channel (up to four live games), Picture-in-Picture, schedules, and division and wildcard standings. [More after the break.]
DirecTV's television subscription to NFL Sunday Ticket is normally priced at $299 for the season (in five payments of $59.99). NFL SUNDAY TICKET To-Go, which used to be five payments of $9.95, is now part of the Sunday Ticket purchase.
DirecTV also recently announced they would include RedZone with the NFL Sunday Ticket package, which originally cost $49 for the season when it launched last year.