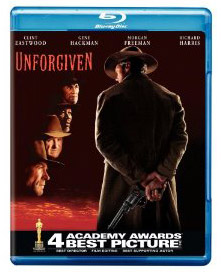 Here's a Blu-ray Disc deal for you. Unforgiven (1992) is currently on sale for $7.99. That's 70% off the suggested MSRP of $28.99. The film stars Clint Eastwood, Gene Hackman, Morgan Freeman and Richard Harris and won 4 Oscars including Best Supporting Actor (Gene Hackman), Best Director (Clint Eastwood), Best Film Editing (Joel Cox) and Best Picture (Clint Eastwood).
Unforgiven on Blu-ray Disc is presented in 1080p VC-1 coded video at 2.39:1 widescreen aspect ratio. Audio is formatted in Dolby Digital 5.1 which isn't up-to-par with DTS-HD but at least it's surround sound. Order Unforgiven
on Blu-ray Disc and get $4 worth of eligible movies and TV shows from Amazon Video On Demand.
Movie Summary: Clint Eastwood and Morgan Freeman play retired, down-on-their-luck outlaws who pick up their guns one last time to collect a bounty offered by the vengeful prostitutes of the remote Wyoming town of Big Whiskey. Richard Harris is an ill-fated interloper, a colorful killer-for-hire called English Bob. And Best Supporting Actor Oscar winner Gene Hackman is the sly and brutal local sheriff whose brand of law enforcement ranges from unconventional to ruthless.