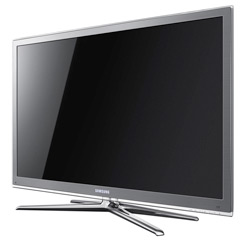 Talk about immersive…the 65-inch Samsung UN65C8000 is the largest 3D LED TV for home use on the market. The 1080p TV features 240Hz refresh rate, 8,000,000:1 contrast ratio, and Precision Dimming technology.
The UN65C8000 (as with the rest of Samsung's LED 8000 line), is WiFi-ready and supports Skype via Samsung Apps — allowing giant sized video calls that Samsung says appear "life-like." Samsung apps also allow access to online services such as Hulu Plus and ESPN Next Level.
3D lacking content? Samsung is answering the call by making available How to Train Your Dragon from DreamWorks Animation (on 3D Blu-ray Disc) this Fall. This will be the second 3D title exclusive to Samsung TV owners — the first was Monsters vs. Aliens, also from DreamWorks.
Other planned 3D content includes Into the Deep, Galapagos, and Mummies: Secrets of the Pharoahs, via partnerships IMAX and Giant Screen Films — although how the content will be presented was not indicated in Samsung's announcement.
The Samsung UN65C8000 will retail for $5,999.99 and is available this month, August 2010.