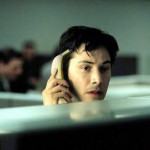 Digital downloads will allow you to watch (and keep) the movies on your desktop PC, laptop, or mobile device, making them great for mobile viewing. Amazon digital purchases allow you to download to 2 locations (TiVo DVRs and Windows PCs) and transfer the downloads to two devices.
Use the links below to find the discounted Matrix titles each day:
Aug. 3
The Matrix

TRT: 2 hrs. 17 min.
Regularly: $6.99 On Sale: $4.99
Aug. 4
The Matrix Reloaded
TRT: 2 hrs. 19 min.
Regularly: $9.99 On Sale: $4.99
Aug. 5
The Matrix Revolutions
TRT: 2 hrs. 10 min.
Regularly: $8.99 On Sale: $4.99
Amazon VOD titles are available for Mac and PC online viewing, Windows PC download, TiVo DVRs, Sony BRAVIA Internet Video Link, Roku player, and compatible portable video devices.
The Matrix
Synopsis: In the near future, a computer hacker named Neo (Keanu Reeves) discovers that all life on Earth may be nothing more than an elaborate facade created by a malevolent cyber-intelligence, for the purpose of placating us while our life essence is "farmed" to fuel the Matrix's campaign of domination in the "real" world. He joins like-minded Rebel warriors Morpheus (Laurence Fishburne) and Trinity (Carrie Ann Moss) in their struggle to overthrow the Matrix.