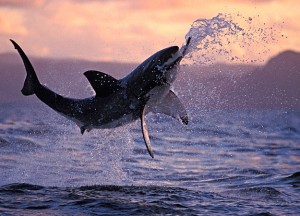 Discovery Channel starts Shark Week 2010 on Sunday, Aug. 1 at 9PM ET/PT. The premiere episode "Ultimate Air Jaws" features state-of-the-art filming using an HD camera that shoots 2,000 frames-per-second, enabling extreme slow motion footage of shark action. Discovery says the footage is so detailed "you can literally count every tooth in the shark's mouth."
Following "Ultimate Air Jaws" Discovery will also premiere "Into the Shark Bite" — which shows close-up shark attacks from inside their mouths using mini-HD cameras positioned by cameraman Andy Casagrande. "Ultimate Air Jaws" premieres Aug. 1 at 10PM ET/PT.
Other shark episodes premiering this week include "Shark Attack Survival Guide" and "Day of the Shark 3" on Aug. 2, "Shark Bite Beach" on Aug. 3, and "Shark Bites: Adventures in Shark Week" on Aug. 4. Check below for full schedule.
At 11:00 p.m. ET shark expert Chris Wojcik will attend a chat session on the Discovery Channel website via their Shark Cam. You can find more info on Shark Week on Discovery's website.
ULTIMATE AIR JAWS
Premiering Sunday, August 1, 9PM ET/PT
INTO THE SHARK BITE
Premiering Sunday, August 1, 10PM ET/PT
SHARK ATTACK SURVIVAL GUIDE
Premiering Monday, August 2, 9PM ET/PT
DAY OF THE SHARK 3
Premiering Monday, August 2, 10PM ET/PT
SHARK BITE BEACH
Premiering Tuesday, August 3, 9PM ET/PT
SHARK BITES: ADVENTURES IN SHARK WEEK
Premiering Wednesday, August 4, 10PM ET/PT