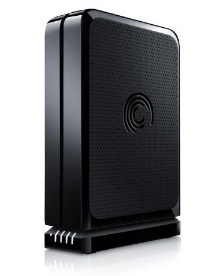 Building up your digital HD movie library? You might want to invest in Seagate's newest external hard-drive which holds up to 3 Terabytes (TB) of data. The first of its kind on the market, the 3TB "FreeAgent GoFlex Desk" hard-drive will store about 120 HD movies, 1,500 video games, or thousands of photos and mp3s. The "GoFlex Desk" (a bit of a tongue twister) is the newest addition to the "GoFlex" product line which already includes 1TB and 2TB models
.
The GoFlex Desk is compatible with Windows and Mac operating systems, including an NTFS driver for Mac which allows cross-platform compatibility. The drive comes standard with a USB 2.0 interface which can be upgraded to increase speed (up to 10x faster) by using a USB 3.0 or FireWire 800 adapter.
"Consumer capacity demands are quickly out-pacing the needs of business as people continue to collect high-definition videos, photos and music," said Seagate executive Dave Mosley.
"Consumers who are active in digital media creation and consumption will witness their digital media storage needs grow nine-fold by 2014, driving the demand for higher capacity, easy-to-use storage solutions," said Kurt Scherf, vice president and principle analyst of Parks Associates.