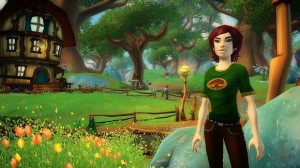 Sony's family-friendly virtual world called "Free Realms" reached 12 million registered users, Sony announced this week. The online multi-player environment was launched in April '09 by Sony Online Entertainment, taking just over two weeks to reach 1 million registered users.
The 12 million-user milestone occurred just after the Massively Multiplayer Online game kicked off its virtual Summer Camp on June 7. In camp, users can acquire summer related items from the Marketplace, explore the Snowhill Playground, and discover treasure among other "virtual" summer activities.
Moving platforms (housing blocks that move in different directions), Tiger Rides and surfboards will be available soon in Free Realms according to Sony.
About Sony Online Entertainment
Sony Online Entertainment LLC (SOE) creates and delivers entertainment for the personal computer, online, game console and wireless markets. SOE is known for its blockbuster franchise EverQuest, its online trading card game Legends of Norrath, and the family-friendly "Free Realms" virtual world.