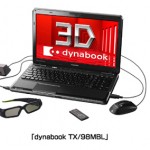 Toshiba's new Dynabook TX/98MBL laptop will push separate 60Hz frames to each eye (120Hz total), enabling what could be the first consumer 3D laptop utilizing active shutter 3D technology. The laptop has a 15.6-inch LCD display with LED backlighting and will of course house a Blu-ray Disc drive. We're sorry to say though, that the TX/98MBL will only be available in Japan when it ships at the end of July, 2010.
The TX/98MBL is a hearty machine with a 640GB hard drive, four gigabytes of RAM, and Intel Core i7-740QM processor. The laptop will be powered by GeForce GTS 350M hardware (1GB RAM) and run on NVIDIA's 3D Vision software. A pair of active shutter glasses will be included with the laptop, and a plug-in transmitter will sync the glasses with the 3D software.
For audio output the TX/98MBL comes stock with Harman Kardon stereo speakers, as well as line-in with sleep-and-music function and Dolby Advanced Audio. The laptop also features an analog and DVB-T hybrid TV Tuner.
The Toshiba Dynabook TX/98MBL will cost approximately ¥250,000 (US$2,745) in Japan. We'll keep you posted on any plans to distribute to the U.S.