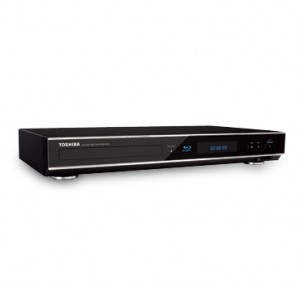 Former Blu-ray rival Toshiba has officially announced availability of two reasonably priced Blu-ray Disc players. The BDX2500 ($179.99) and BDX2700 ($249.99) include Wi-Fi, 7.1 channel audio, 24 frames-per-second, and compatibility with Netflix and Blockbuster On Demand.
The main difference between the two players resides in wireless capability. The BDX2700 comes with built-in Wi-Fi but the BDX2500 will need an adapter. There are also slight design differences. The more stylish BDX2700 features metallic-trimmed foot pedestals and a light-up Blu-ray logo.
Commenting on the ability of the players to support Netflix, Blockbuster On Demand, Vudu, and Pandora internet Radio, Toshiba spokesperson Jodi Sally said, "The idea of home entertainment now goes beyond being able to watch crisp, high-definition video."
This isn't the first time Toshiba released a standalone Blu-ray player. In September 2009 they shipped the BDX2000, a full HD 1080p player with BD-Live (Profile 2.0) and 24 fps.
Here are the full specs of the Toshiba BDX2700 and BDX2700 Blu-ray Disc Players:
• Full HD 1080p / 24fps Blu-ray Disc playback, with standard DVD upconversion
• Access to online content from Netflix, BLOCKBUSTER On Demand, VUDU, and Pandora internet Radio, using either wired Ethernet or Wi-Fi connection BDX2500 requires optional wireless adapter – sold separately; BDX2700 includes built-in Wi-Fi capability
• HD audio support, including Dolby® True HD and DTS-HD Master Audio | Essential™
• BD-Live™ (BD Profile 2.0) and Bonus View™ compatible
• AVCHD video, HD JPEG/JPEG photo, and MP3/WMA audio file playback
• HDMI connection with HDMI®-CEC control
• 7.1-Channel analog audio outputs
• USB port and SD/SDHC card slot
Toshiba BDX2500 (List: $179.99) Now $156.57 at Amazon
Toshiba BDX2700 (List: $249.99) Now $210.99 at Amazon