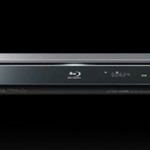 One reviewer called the BDP-S1000ES "grossly overpriced" when it released last year at $699 and we agreed. But at $279 (a $420 markdown) this is a high-end BD player (what Sony calls an Elevated Standard) that comes with built-in Wi-Fi, 7.1 channel audio output and 4GB of external USB memory to support BD-Live features.
What makes it high-end? The S1000 has Super Bit Mapping for smoothing background gradients and enhancing shadow details. The player also has an HD Reality Enhancer feature which sharpens moving edges. In addition, the S1000 supports 24p True Cinema, x.v.Color output (HDMI v1.3), and Precision Cinema HD Upscaling technology for DVDs. Sony calls this player their "finest video output available."
Audio codecs supported by the BDP-S1000ES include 7.1-channel Dolby TrueHD, Dolby Digital Plus, dts-HD Master Audio and dts-HD High Resolution Audio as well as analog 7.1-channel output.
Check out the $420 price break which is only available through May 8, 2010. Use promotional code SONYBDPS1000 when checking out (in the eCoupon field) to see the discount.