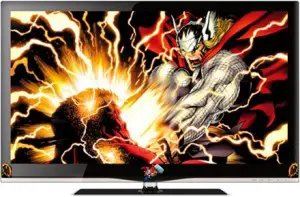 First came Wonder Woman lunch boxes and now diehard comic fans can get their favorite superhero branded on HDTVs, including Iron Man, Captain America, The Hulk, Fantastic Four, Wolverine, and Thor. The Marvel Comic image will display for 8-seconds while the TV powers up, and images of the hero are "embellished" on the bottom corners of the screen. Retro versions of the comic heroes are also available.
LCDs come in 22″, 32″, 42″ and 55″ sizes. Resolution is 1080p and native contrast 4,000:1 on all sizes (except for the 22″ at 720p and 3,000:1). Response time is 6ms on all except the 55″ which is 5ms. LEDs come in 40″ or 46″ sizes at 1080p, 6ms response time with static contrast ratio at 5,000:1 on both models.
Roundtable Concepts Inc. (through RTC23 Inc.) had the branded TVs ready back in February 2010 but have re-announced their availability. Pricing ranges from about $338.88  for the 22″ LCD to  $$1,988.88 for the 46″ LED.
What do think of branded HDTVs? Will you be buying one? Get more info at http://www.rtc23store.com/.