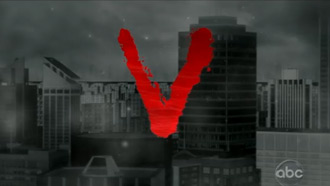 ABC's drama "V" will return tonight (Mar. 30) after a successful November '09 run. In the premiere episode titled "Welcome to the War" Erica is attacked in her home, the Resistance recruits a dangerous new member, and Ryan's concern over Val's abnormal pregnancy grows. "V" will follow "LOST" at 10:00 p.m. ET (9:00 Central) and is available in 720p HD on ABC.
This a new time slot for 'V', which ranked highest in its hour among young adults (18-34) and men (18-49) during Nov. '09 — when it was pitted against shows like "NCIS" and "Biggest Loser."
"V" stars Elizabeth Mitchell as Erica Evans, Morris Chestnut as Ryan Nichols, Joel Gretsch as Father Jack, Lourdes Benedicto as Valerie, Logan Huffman as Tyler Evans, Laura Vandervoort as Lisa, with Morena Baccarin as Anna and Scott Wolf as Chad Decker.
"V" is produced by The Scott Peters Company and HDFilms in association with Warner Bros Television.