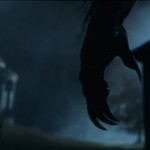 The Wolfman is officially headed for Blu-ray Disc, and what we like is right away we'll be getting an "Unrated Director's Cut" and bonuses with the release — all in high-def. The BD release will contain both the theatrical and director's cut, as well as digital copy (but only for a limited time).
Also as part of the Blu-ray release, The Wolfman will give access to stream the original 1941 film The Wolf Man starring Lon Chaney, Jr.. Owners of the BD release will be able to stream the film via BD-Live, pocket BLU, or on UniversalHiDef.com.
Bonus features on the BD release will also include two alternate endings, "The Beast Maker" (a make-up feature), "Transformation Secrets" (covering visual effects), "The Wolfman Unleashed" (about the film's stunt team), and "Werewolf Legacy, Lore and Legend" (a history of the Wolf Man) among other extras.
The Blu-ray Disc will be formatted in 1080p with an aspect ratio of 1.85:1. Audio is DTS-HD Master Audio 5.1/DVS DD 2.0. Total run time is 1 hour, 43 minutes (theatrical version) and 1 hour, 59 minutes (unrated version).
The Wolfman is scheduled to hit shelves June 1, 2010. We'll update you with cover art once it is released. The movie will also be available as a digital download.