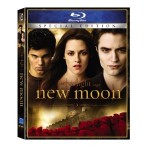 The biggest release on Blu-ray and DVD this week is without a doubt The Twilight Saga: New Moon. But it won't be part of Tuesday's weekly list. Rather, the movie will hit the shelves on Saturday, Mar. 20. As Twilight fans anxiously await the clock to strike midnight, retail stores nationwide are getting in on the hype by hosting release parties and offering special promotional goodies. To check for a local release party near you visit the official 'New Moon' website and enter your zipcode on the left column.
Other titles this week on Blu-ray include The Princess and The Frog (available as Three Disc Blu-ray/DVD Combo w/Digital Copy or Single Blu-ray Disc), Ninja Assasin (Blu-ray/DVD Combo + Digital Copy), The Fourth Kind, South Park: The Complete 13th Season, and The Wizard of Oz (70th Anniversary Edition).
Here's the full list of new Blu-ray releases this week at Amazon.com.