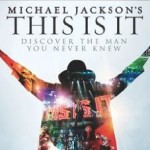 Hot on Blu-ray this week is Michael Jackson's This is It from his summer 2009 rehearsals. The rehearsals, which took place at the Staples Center in Los Angeles, would have prepared Jackson for a 50-date world-wide tour. 120 hours of tape were edited down to almost 2-hours of footage of the "King of Pop." Aspect ratio is 1.78:1 with DTS-HD Master Audio 5.1. Features include "Smooth Criminal" featurette, a new "Thriller" vignette, BD-LIve and interactive playlist.
We wouldn't be an HD-focused website if we didn't mention A&E's WWII in HD miniseries that aired on the History Channel. The 10 episodes (about 45 minutes each) were edited from thousands of hours of actual 8mm and 16mm WWII war footage. The footage is cropped and enlarged (rather than stretched), and presented with all its imperfections. Aspect ratio is 1.78:1, with 1080i video and DTS HD Master 5.1 audio.
Surrogates is last year's sci-fi release that imagines we all live through our surrogates (or avatars) rather than risk our real selves in the real world. Stars action-film-master Bruce Willis and directed by Jonathan Mostow (Terminator 3). Video is 1080p at 2.40:1 aspect ratio. Audio formatted in DTS HD Master 5.1 audio. Extras worth mentioning are deleted scenes, audio commentary, and featurettes. Also worth mentioning is Disney's $10 coupon towards the purchase of this movie (ending this month).
Director Wim Wender's Paris, Texas (1984) is available this week as part of the Criterion Collection. The film stars Harry Dean Stanton and Nastassja Kinski in a film which was nominated for Best Foreign Film in 1985. BD is formatted in 1.66:1 aspect ratio with DTS-HD Master Audio 5.1. Includes interviews with Wenders, deleted scenes, audio commentary, and Super 8 home movies.
A few other tiles released this week to mention include Saw VI, Pride & Prejudice, Atonement, Fame (1980) and IMAX: Wild Ocean. Here is a list of all this week's Blu-ray releases available at Amazon.com.