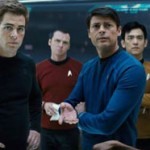 While 2009 was a troublesome year for the economy, it was a good year for Blu-ray Disc. Weekly sales of discs were consistently up when compared to 2008, and Blu-ray players dropped substantially in price around the holiday season. Also in 2009: Toshiba joined the Blu-ray Disc Association and released BD compatible players; Paramount starting releasing "Sapphire Series" BDs of award winning films; And, Sony finalized 3D specifications for Blu-ray Disc, which will put 1080p resolution in both eyes.
HD Report users voted on the best Blu-ray Discs of 2009*, and it's no surprise that Star Trek came in first with 35% of the votes. The film was successfull in appeasing both long time Star Trek fans as well as capturing a whole new Star Trek audience. Second place with 13% of the votes was UP. And, third place was a tie between X-Men Origins: Wolverine and Transformers: Revenge of the Fallen, both with 11% of the votes.
What have we got to look forward to in 2010? Mid January we'll see the release of the Jason Bourne films on Blu-ray Disc, including The Bourne Trilogy containing all three films. Godfather and Godfather Part 2 will come out on February 2 as single titles. In April, maybe, The Lord of the Rings: The Motion Picture Trilogy will finally be released but only as theatrical versions. And, James Cameron's Avatar is sure to be a top BD release, as well as a showcase for 3D technology.
*(Note: The votes were made on the top 10 selling Blu-ray Discs according to Amazon's sorting method.)