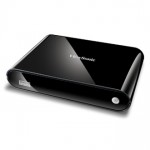 Viewsonic announced their VMP70 HD digital media player, a $129 portable device that supports 1080p video as well as DTS and Dolby Digital surround sound. The direct-connect player comes with an HDMI port (cable included) and also S/PDIF port ( Sony Philips Digital InterFace) for delivering home theater quality audio.
The VMP70 can be used to transfer content from a USB or external hard drive to your HDTV. Service on the player includes HDMI, Component (CVBS), Composite (YPbPr), and SPDIF inputs 2xUSB 2.0. A remote is also included.
The size of the player is 8.03″ x 1.57″ x 5.5″ (Width x Height x Depth), while weight of the VMP70 is a mere .925 lbs.
Viewsonic is running a promotion on the VMP70 for the holidays, setting the introductory price at $98.99.
Features of the Viewsonic VMP70 include:
Sharing music, video and photos that are stored on your computer via your HDTV
Connect to either HDMI, component or the composite port in full stereo, supporting DTS, Dolby Digital and SP/DIF interfaces
Offers the most complete video and audio formats including MPEG1/2/4, DivX/Xvid, H.264, VC1, RM/RMVB, WMA, MP3, DTS, Dolby digital, OGG, AAC and many more
Access multiple content sources simultaneously and preview digital collections easier
More information and full specs can be found at http://www.viewsonic.com/products/vmp70.htm.