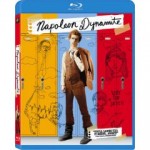 Amazon started a Blu-ray blow-out sale that has discs ranging in price from $9.99 to $12.99. How can you say Blu-ray is too expensive anymore with these titles priced lower than many standard-def DVDs? Simultaneously they are also offering discounts on "Blu-ray Book"
titles, and Best Sellers.
I don't think I'll be picking up "The Fly" for $10.99 but "Rising Sun" and "The X-Files: Fight the Future" are tempting at that price. I might also check out "Batman: The Movie" from 1966 starring Adam West and Burt Ward for $9.99.
See below for the list of titles included. And here is a link to the promotion
. It ends Monday, Oct. 19.
$10.99
Chain Reaction [Blu-ray] (1996)
Phone Booth [Blu-ray] (2003)
Me, Myself & Irene [Blu-ray] (2000)
Entrapment [Blu-ray] (1999)
The Omen [Blu-ray] (1976)
Broken Arrow [Blu-ray] (1996)
The Fly [Blu-ray] (1986)
French Connection 2 [Blu-ray] (1975)
Batman: The Movie [Blu-ray] (1966)
The X-Files – Fight the Future [Blu-ray] (1998)
Rising Sun [Blu-ray] (1993)
Unfaithful [Blu-ray] (2002)
Flight of the Phoenix [Blu-ray] (2004)
$11.99
Point Break [Blu-ray] (1991)
Napoleon Dynamite [Blu-ray] (2004)
Romancing the Stone [Blu-ray] (1984)
The Transporter [Blu-ray] (2002)
Transporter 2 [Blu-ray] (2005)
Drumline (Special Edition) [Blu-ray] (2002)
The Jewel of the Nile [Blu-ray] (1985)
Beneath the Planet of the Apes [Blu-ray]
Antwone Fisher [Blu-ray] (2002)
Dude Where's My Car [Blu-Ray] [Blu-ray] (2000)
$12.99
Behind Enemy Lines [Blu-ray] (2001)