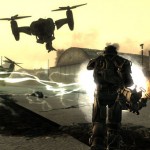 Bethesda's Fallout 3 DLC is just days away from its release on the Playstation network this Thursday, Sept. 24. The third add-on for Fallout 3, Broken Steel will raise the level cap for your gaming character from 20 to 30.
The add-on changes the ending of the original Fallout 3 narrative to continue the story. It begins about two weeks after Fallout 3 ends, where you wake up in the Citadel's clinic, amidst the ongoing battle between the Brotherhood of Steel and the Enclave.
Broken Steel was first released on Xbox Live for Xbox 360 and for PCs on May 5, 2009.
Operation Anchorage and The Pitt are two more add-ons that will be available Oct. 1 for PS3. The add-ons were first available on Xbox Live (The Pitt initially with some bugs) back in March, 09.
Broken Steel will be included in the Fallout 3: Game of the Year Edition to be released October 13, 2009. The edition will include five add-on packs and will retail for $59.99 (PS3 and Xbox 360), and $49.9 (PC). Fallout 3: Game of the Year Edition is currently available for pre-order
on Amazon.com.