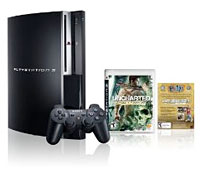 Amazon has dropped the price of its Playstation 3 bundle with "Uncharted: Drake's Fortune" game down to $419, from a regular price of $499. Earlier in the week we saw them drop it $50, so the additional $30 is a nice bonus and an excellent price for this gaming system.
The PS3 is the 160GB model and comes with 1 Dualshock 3 wireless controller, a PAIN Downloadable game voucher, and of course "Uncharted: Drake's Fortune."
For those of you not familiar with the game — a 400-year-old clue sends modern-day fortune hunter Nathan Drake on a quest where he gets stranded on a dangerous island and must fight for his life against modern day pirates. The game is rated "T" for Teen.
Check out the PS3 bundle sale on Amazon.