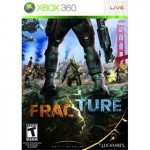 Amazon has cut the price of Lucas Arts' Fracture
in half. The normally priced $19.98 title is now priced at $9.98 and in-stock from Amazon's own warehouse. Fracture was first released in October '08 and is available for both Playstation 3 and Xbox 360.
In the game you assume the role of Jet Brody, a demolitions expert in the Atlantic Alliance army in the middle of the 22nd century. Using futuristic weaponry, you can reshape the battlefield (Terrain Deformation) as you face genetically enhanced soldiers of the Pacifican army.
"Fracture" allows both multi-player and co-operative play. Check out the Amazon price cut
.