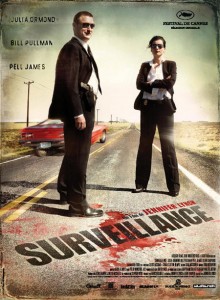 HDNet Movies is hosting a sneak peak of producer David Lynch's newest film, Surveillance next week. The film was directed by none other than Lynch's daughter Jennifer Lynch, who also co-wrote the movie. Surveillance is set to have its national theatrical debut in theaters June 26.
The movie stars Julia Ormond and Bill Pullman as federal officers who investigate a roadside rampage which gets more and more eerie as the stories unfold. Richard Corliss of TIME says, "Think Rashomon meets The Texas Chainsaw Massacre in Twin Peaks."
Surveillance premieres next Wednesday, June 24 on HDNet Movies at 8:15 p.m. ET, with encore presentations at 10:00 p.m. and 11:45 p.m. ET.