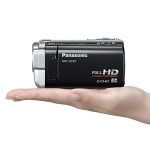 Panasonic has announced two of the world's lightest HD camcorders. Weighing in at only a half-a-pound, the Panasonic HDC-SD10 and HDC-TM10 both produce 1920×1080 video and come with image enhancing features like O.I.S. (Optical Image Stabilizer), face detection, and AF/AE Tracking (Auto Focus/Auto Exposure Tracking).
The difference between the two models is the way it records footage. The HDC-SD10 records video onto an SDHC/SD Memory Card. The HDC-TM10 also uses an SDHC/SD card, but can also record onto 8GB of built-in memory. The HDC-TM10 "twin memory" model also features Relay Recording. When one type of memory runs out, the camera automatically switches to the other available memory type.
Other features of the Panasonic HDC-SD1 and HDC-TM10 include:
Touch Screen and Handy Function Buttons
1.9-sec Quick Power-On
Pre-Rec (camcorder continuously records three seconds of images into an internal buffer memory, so when the button is actually pressed the three seconds prior are added to the clip)
Auto Power LCD (adjusts for shooting conditions)
Built-in Video Light and Flash
Highlight Playback
One-Touch Copy of Videos to DVD
Compatibility with Panasonic VIERA Link
Both the HDC-SD10 and HDC-TM10 are scheduled to start shipping in September '09. The camcorders will retail for $549.95 and $599.95 respectively.